Oktober – November '19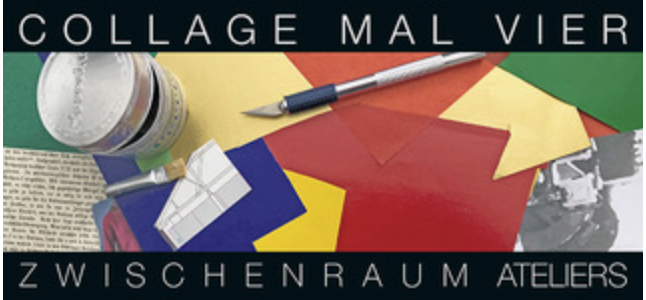 Herzliche Einladung zur Vernissage am 25.10. um 19.00 Uhr. Maxie von Schwerin in zu folgenden Terminen in den ZWISCHENRAUM ATELIERS
25.10.19 ab 19.00 Uhr zur Eröffnung
26.10.19 von 11-14.00 Uhr, 27.10.19 von 11-18.00 Uhr
09.11.19 von 11-14.00 Uhr
10.11.19 von 14-18.00 Uhr (Ende der Ausstellung)
Oktober '19
…als Gastkünstlerin in der Gruppenausstellung:
COLLAGE MAL VIER, zusammen mit Cora den Adel, Birgit Breer und Eva Witter-Mante
Vernissage: 25.10.19 um 19.00 Uhr
Öffnungstermine: 
Samstage: 26.10., 02.11. und  09.11.2019 von 11.00-14.00 Uhr
Sonntage: 27.10., 03.11. und 10.11.2019 von 15.00-18.00 Uhr
Z W I S C H E N R A U M  ATELIERS
Eingang Markt 5 – Post Kötterbachstraße 5
58239 Schwerte
August' 19
HERZLICHE EINLADUNG ZUR VERNISSAGE
            'Kunst an der Plakatwand 2019'
Sonntag, 18. August 2019, 15.00 Uhr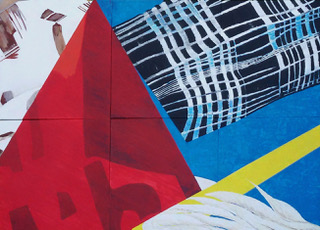 Kunst statt Werbung ! – Große Original-Gemälde am Michaelkirchplatz Berlin, Mitte vom 18. August bis 6. Oktober 2019.
August '19
Bezugnehmend auf das Heinrich Heine Viertel lautet das Motto frei nach Heine: "Blumen küssen Nachtigallen". Das Thema beschäftigt sich auf poetische Art mit den heutigen Gemeinsamkeiten auf einem ehemalig durch die Mauer getrennten Wohn-und Lebensbereich und möchte zu grenzüberschreitendem Denken und einem neuen Miteinander anregen.
Am 18. August 2019 um 15 Uhr findet die festliche Eröffnung statt, am 03. Oktober 2019 um 15 Uhr das Finale. Zu allen Terminen laden die Künstler und Künstlerinnen zu Führungen und Gesprächen ein. www.kunstanderplakatwand.de
Das Bild "Berlin City Scape" ist ganz auf das Thema und den Ort bezogen.
Das Thema "Blumen küssen Nachtigallen" findet sich in dem riesigen roten Mund mit Mundwinkel oben und den Federn eines Vogels im unteren rechten Bereich. Sie berühren sich auf einer gelbgoldenen Linie, die nach rechts in die Zukunft weist. Die Linie – die früher eine Barriere war und heute der Bereich ist, wo Begegnungen stattfinden.
Das Bild interpretiert aber auch den Heinrich-Heine-Platz: Die rote Kirche. Das Netzwerk – wie Fenster und Gebäude, die sich am Abend im Engelbecken spiegeln, die Federn des Schwanenpaars, das Blau des Wasserbeckens oder des Himmels über Berlin.
Das Gemälde ist auch eine Hommage an Berlin, wie es derzeit ist: wachsende hohe Gebäude wie am Potsdamer Platz mit den einhergehenden spitz zulaufenden Winkeln vom Betrachter auf der Straße aus gesehen. Die große Bewegung und Dynamik, das Diffuse der Zeichen, die Vielschichtigkeit, viele Wege, die sich kreuzen, das Nebeneinander so unterschiedlicher Strukturen, die ein Miteinander ergeben.
August bis Oktober '19
Teilnahme an: KUNST AN DER PLAKATWAND 2019
unter dem diesjährigen Thema: BLUMEN KÜSSEN NACHTIGALLEN
18. August – 06. Oktober 2019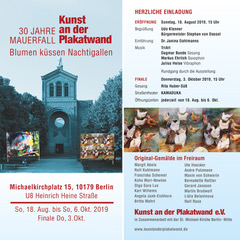 Aussenanlage Michaelkirchplatz, HeinrichHeine Viertel in Berlin Mitte
April '19
Am Donnerstag, den 25.April 2019 um 19.00 Uhr
Holzmarktstraße 25, 10243 Berlin
 …möchte ich Sie zusammen mit der Holzmarktgemeinde zu einer Gruppenausstellung auf dem Gelände einladen.
AUSSTELLUNG: Freitag 26. April – Sonntag 28. April 14.00-21.00 Uhr, KUNSTAUKTION und FINISSAGE: 28.April ab 17.00 Uhr
April '19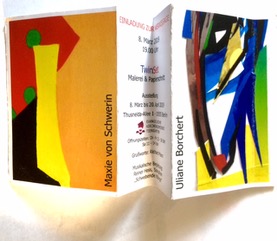 FINISSAGE TWINSET
Am Ostermontag, dem 22. April 2019 um 19.00 Uhr
Thusnelda-Allee 1  10555 Berlin
…möchten Uliane Borchert, Reinhard Eggers und ich Sie gerne zu einem Orgelkonzert mit Musik von Johann Sebastian Bach (Orgel: Reinhard Eggers) in die Heilandskirche Tiergarten einladen! Die Künstler*Innen stellen sich den Fragen der Besucher*Innen. 
April '19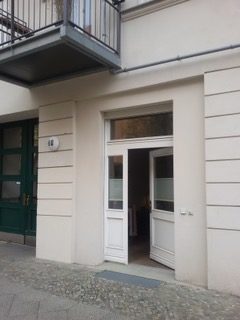 Einzug am 1.4. mit meinem Studio / Atelier
in die Lychener Straße 80, D – 10437 Berlin in Berlin – Prenzlauer Berg
zu meinem Kollegen Wolfgang Galler, www.wgaller.de
März '19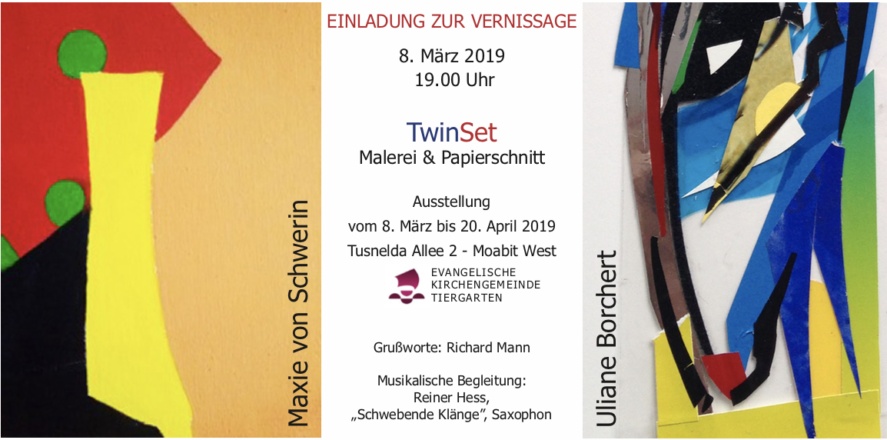 Einladung – zur Vernissage der Ausstellung TwinSet, Malerei und Papierschnitt, am 8. März 2019, 19.00 Uhr
Februar '2019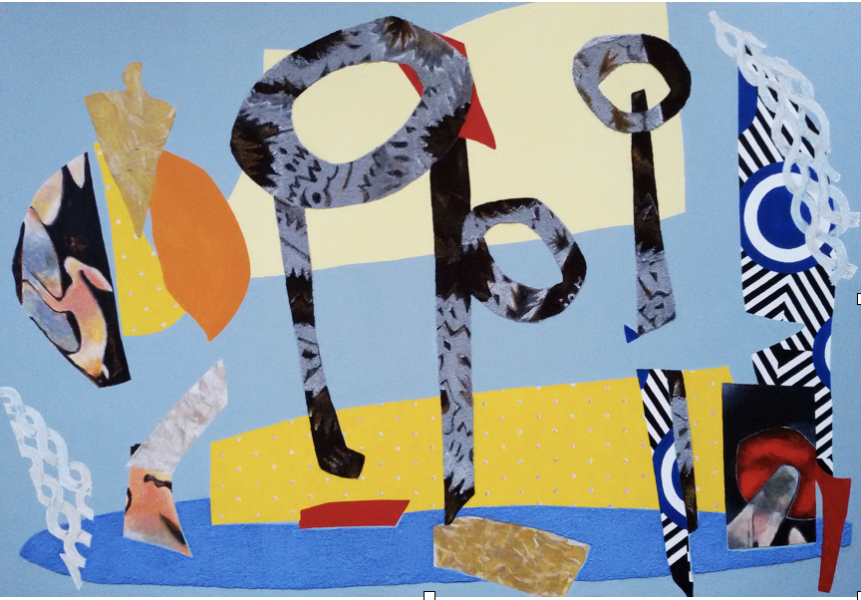 Liebe Freunde der Kunst,
hiermit möchte ich Sie zur Finissage meiner Ausstellung
CROSSTOWN GIG  
am Dienstag, den 19. Februar 2019, ab 18.30 Uhr, in die Schillerstrasse 64 in 10627 Berlin – Charlottenburg einladen.    Sie und Ihre Freunde sind herzlich willkommen!
Mit freundlichen Grüßen
Dr. Adelheid Krause-Pichler (1. Vorsitzende DtkV)
Maxie von Schwerin
www.dtkv-berlin.de, www.maxie-von-schwerin.com
Dezember '18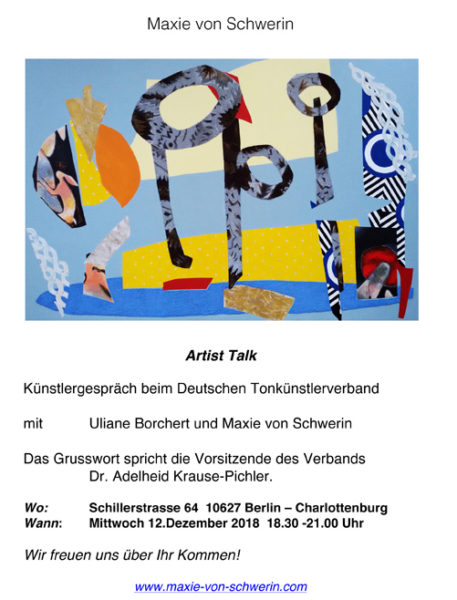 Einladung  – zum Künstlergespräch am Mittwoch, den 12.12.2018
mit Maxie von Schwerin und Uliane Borchert. 
November '18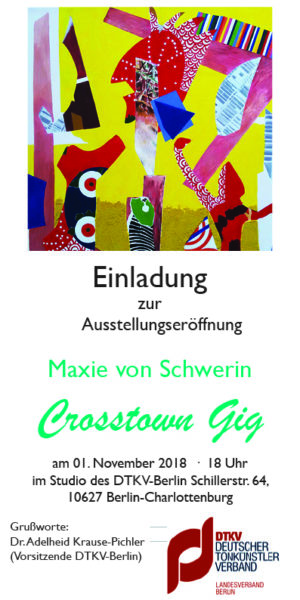 Einladung – zur Ausstellungseröffnung
im Haus des Deutschen Tonkünstlerverbands (DTKV)
am 1. November 2018. 
Upcoming exhibition in August 2018:
Large size paintings and wine tasting at "Autos &Weine"  in Berlin Schöneberg
May '18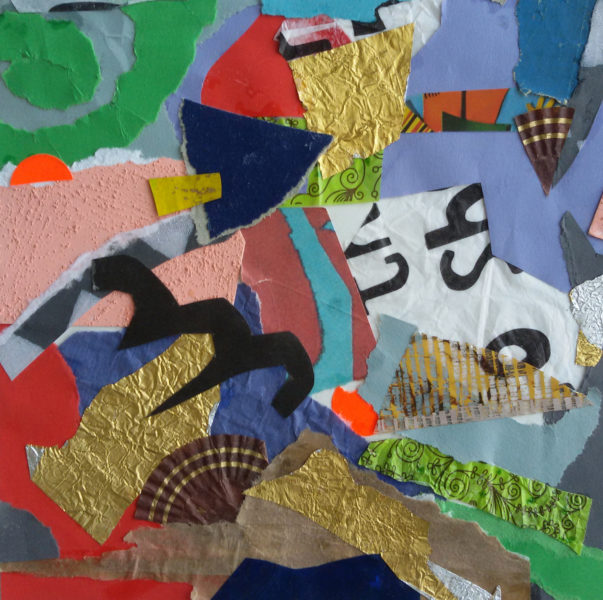 Vernissage of new papercuts –
Thursday, Mai 17th, 8-11pm. Exhibition will be in Kronenstrasse 55-58, Berlin Mitte. 
April '18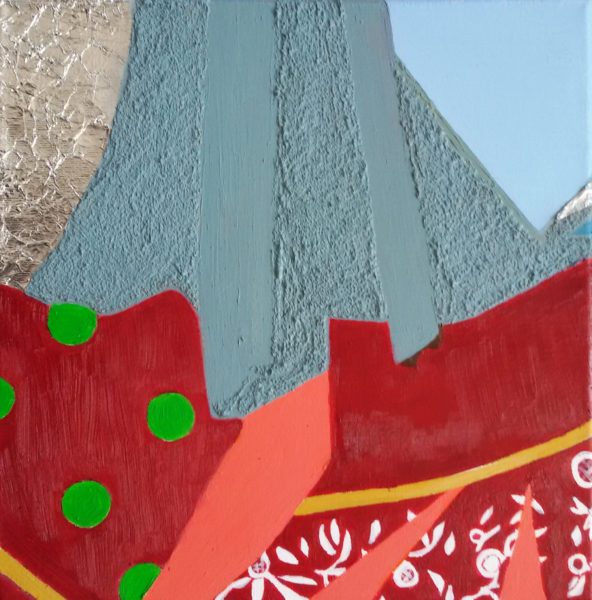 Launching my new website-section 'Paintings Abstract' – Please feel free to check it out at Werk=>Malerei=>Malerei abstrakt.
Also now on instagram at 'maxievonschwerin': Paper Collages.
March '18

Working on large size paintings right now –
more to be seen soon.
Also – if you like check my latest work out on INSTAGRAM: MaxievonSchwerin
March '18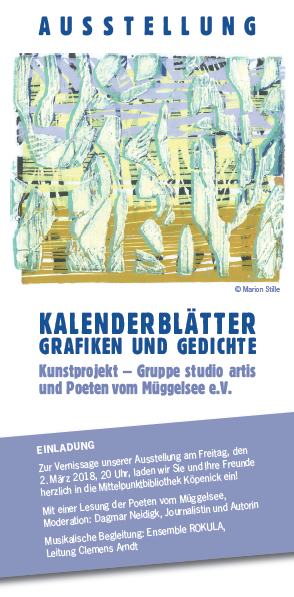 Einladung – zur Vernissage
zur Ausstellung "Kalenderblätter" in der Köpenicker Mittelpunktbibliothek 
am Freitag, 2. März, um 20.00 Uhr.
February '18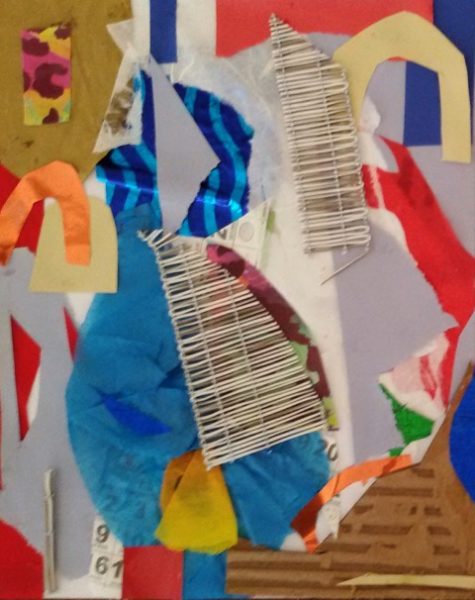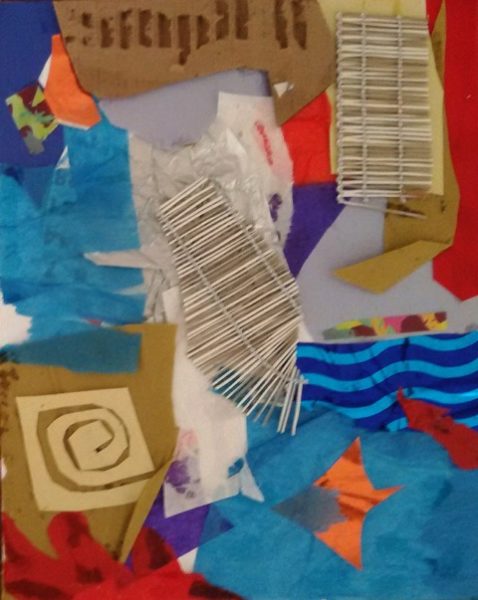 Auction in Huatulco/Oaxaca February 2-3, 2018
Two of my Papercuts have been auctioned in Mansiones, Cruz del Mar, Bahias de Huatulco, Oaxaca Mexico at the 7th Huatulco Being Art Exhibition
thanks to Jim and Mary Spicka, who made this possible.. and see you next year for the 8th Art Exhibition in February 2019!
December '17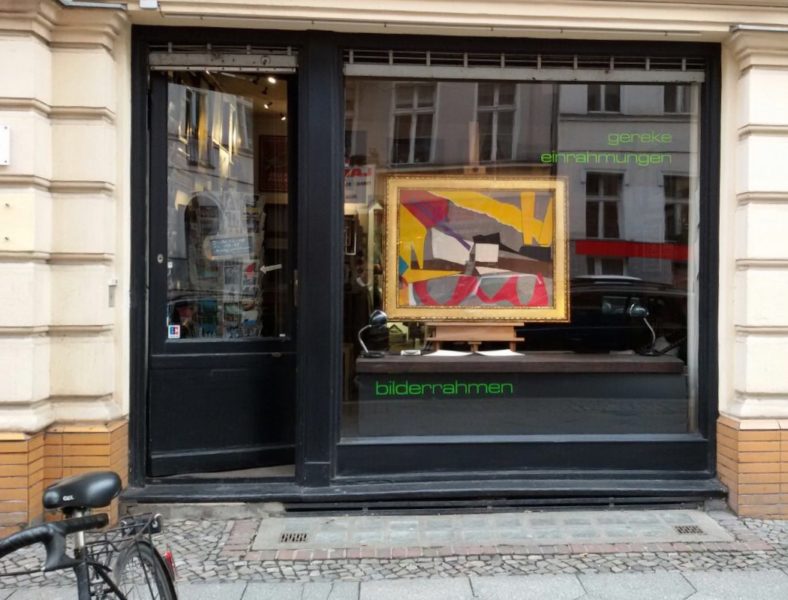 Still looking for Christmas presents? Go have a look before or after the holidays at Eisenacherstrasse 7 in downtown Berlin: urban1, oil on cotton, 86x113cm.
December '17
Working for an upcoming show in 2018. More information to come.
November '17
23th of November: 7.30 pm – Opening of Art Market (24.11.-23.12.2017)
30th of November: 7.30 pm – Presentation of Kalenderblätter 2018
both at: galerie grünstrasse / collegium artis e.V.; Grünstrasse 22 / Zugang über Böttcherstrasse, 12555 Berlin, Di – Mi 16 – 19 Uhr, Do – Fr 13 -16 Uhr, Sa 10 -14 Uhr, Telefon 030-43 20 92 92, www.galerie-gruenstrasse.de, E-Mail galerie.gruenstrasse@gmail.com
August '17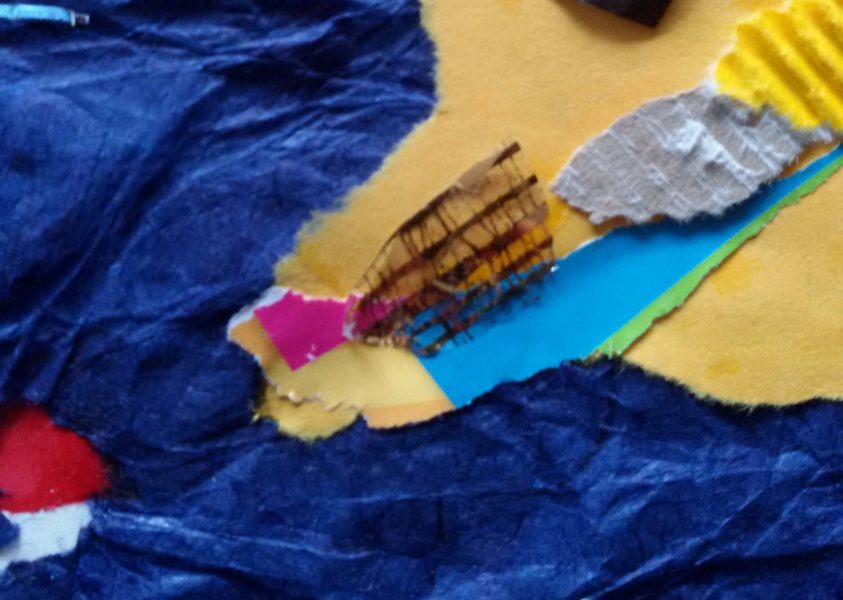 Start working with paper collages.
June '17
Plan to work on a woodcut portrait…
and … searching for a new studio nearby! Keep fingers crossed! 
Have you checked out my online store yet? … It is right here and I am selling my work via website and Paypal. >> go to shop
May '17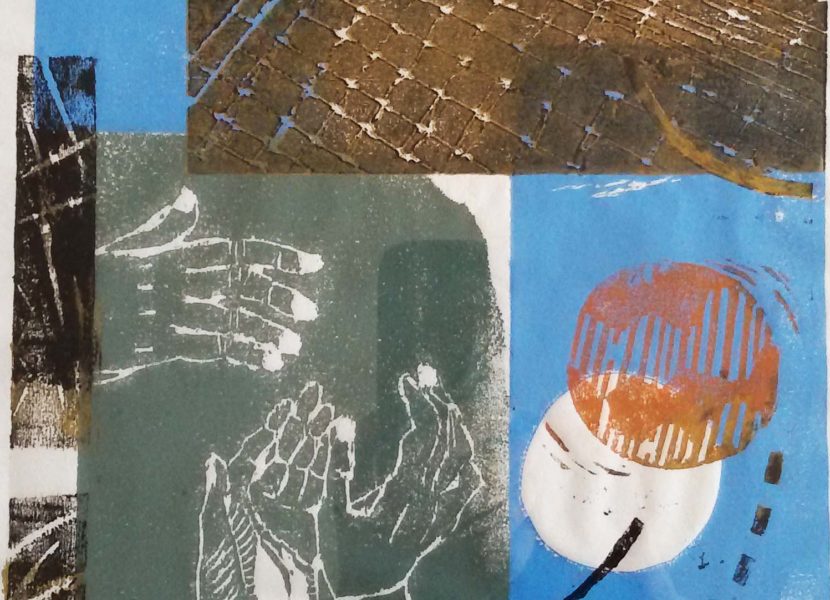 Also this month, my print on the gallery calendar .. together with Dagmar´s beautiful poem.
May '17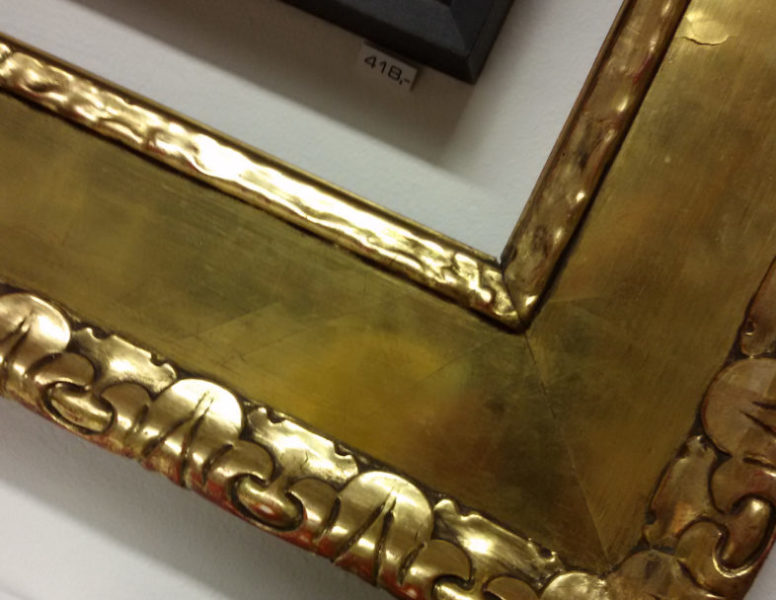 Working at a new portrait of several young fellows – frame (Art Deco Stile) is already there and I got inspired. This time with Oil on Canvas.
April '17
My contract ended and I have to move from my studio at Berlin Südkreuz (sigh!!!). So sad about it!
March '17
Moving to new studio at KÜNSTLERHAUS BETHANIEN at Mariannenplatz 2, Berlin.
4 prints in artsy frames offered by LARS at the FRAMING SHOP in Eisenacher Strasse 7, Berlin.
Setting up a STORE right here… Selling my work via website and Paypal. >> go to shop
February '17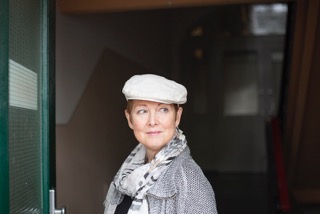 February 11th: open door in my studio building – see new work in real!
December '16
Vernissage December 1st, 2016, 6pm poetry event and introduction of new art at Gallery Grünstrasse, D-12555 Berlin-Köpenick, Grünstrasse 22.
Poets and fine art printers are showing their 3. Art Calendar (2017) of Köpenick. Please come and see and listen. 
December '16
November 11th – December 22nd 
" ART MARKET" at Gallery Grünstrasse, Berlin-Köpenick, Grünstrasse 22. Show and Sale  1-7pm Tuesdays-Sundays. Please come to the opening November, 10th at 7.30pm.
November '16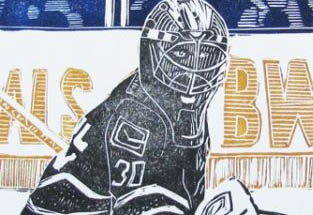 One of my puzzle prints to be seen at my framers shop at Berlin, Eisenacher Strasse 7.
October '16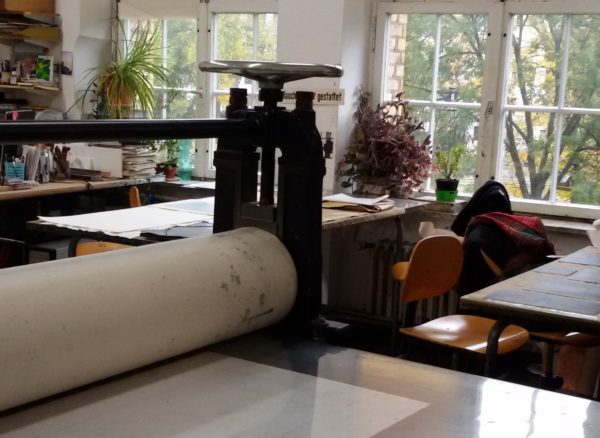 "This month I will work with a large size printing press at "Druckwerkstatt im Kulturwerk" in Berlin. I am thrilled! It is the largest non-commercial print workshop for artists worldwide. looking forward meeting with interesting colleagues there."
September '16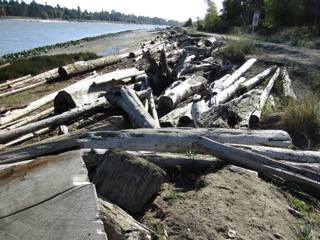 … had a great time in Canada. Got inspired by the lines of the draft wood and will use them in my upcoming work. 
July '16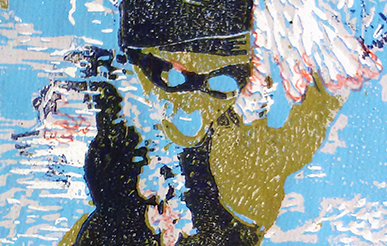 Since July 2016: "Blue Spirit" and more Prints to be seen in frames at my framer´s shop. Have a look at Lars: www.gereke-Einrahmungen.de
May '16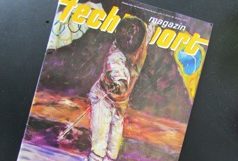 The specialised Magazine of the 'Deutscher Fechterbund' (German Association of Fencing) has asked Maxie von Schwerin to paint a cover for the Olympic 2016 edition. 
The painting 'This Summer' is for sale. It measures 100 x 150cm and runs at 2.300 Euro (plus transport).
May '16
The poster edition of the motif is also available. 
The size is 50 x 75cm, running at 24,00 EUR plus postage. 
Please order at 
Dezember '15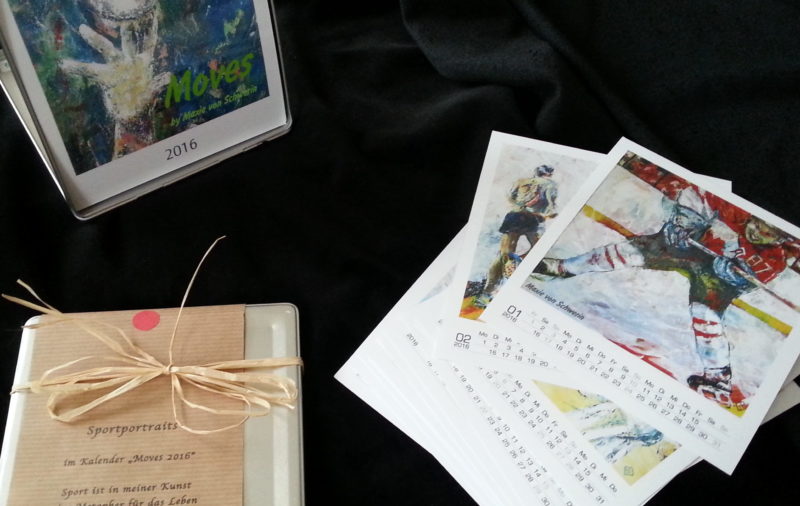 Print Edition Calender 2016: MOVES
A unique desktop calender with sports motives by Maxie von Schwerin.
Calender 2016 was introduced at the Metropolitan Sports & Country Club, Berlin 
November '15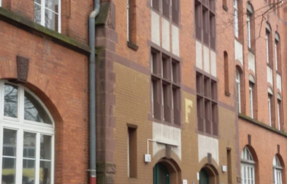 Welcome at my studio!